Welcome to ForEver Global
Official Start 10.04.2021
To begin, I will mention a few systems or configurations that we have:
Maximum Level 250
Start Level 1
Constant evolution of equipment
3 Kingdoms
Without alchemy/energy
Centralized Market
CH Changer Ingame
Equipment Changer
Key Changer
Friendly Menu
Anti-Exp
Portatil shops
Bank System
Titles System
Transmutation System
Costume / Belt System
Mount / Pet System
Craft System

Domain System
Anti-Exp System
Wiki System
Multilanguage System
Shaman System
Info Mobs
Vote4Coins
Dungeons Reconnect
New Dungeons
New Mobs / Pets / Mounts
New Safebox
New Bonus PvM
New Potions
5 Deposit
4 Inventories
5 New Events PvP
New Events
Dog Mode System (For lag)

The Start
You start at lvl 1, and you obtain a PvM set which will help you for the whole adventure. Additionally you get 5 mounts, a pet and several varied items.
There is 3 Kingdoms, (Zakrum) light and (Drakan) darkness. If ther are unbalanced you will get a bonus exp if you choose the least populated Kingdom.
Evolution
There is a total of 10 PvP set (Tiers)
Mounts
Mount Evolution, you start with 5 basic mounts that you can evolve as you advance in your adventure
In relation to the basic mounts, your initial horse level is 10, and you can improve it while the mounts, all mounts have the level of your ability, you will have to improve it in the dungeons.
Also you can improve your horse skill, which will help you a lot
We count with a lot of mounts, aprox: 100. I am going to show you a few ####mounts
Pets
As with the mounts, I'm going to show you a few pets. We have aprox: 150 pets
Craft System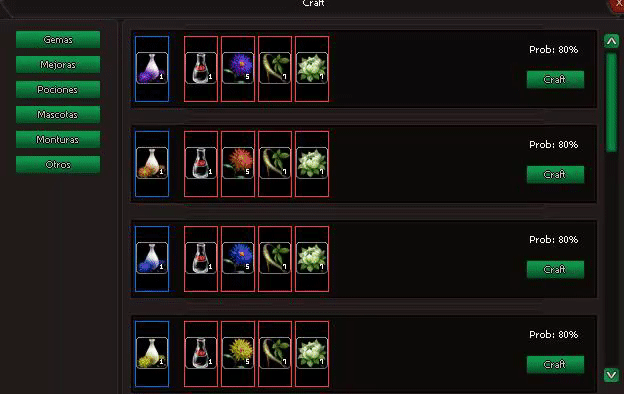 All craft in one window, which is connected with the inventory and the safebox.
We have a series of new recipes for potions, pets, mounts ...
Safebox System
An orderly safebox, connected to the account, with which you can improve, deliver item, craft item ... without even having to open it.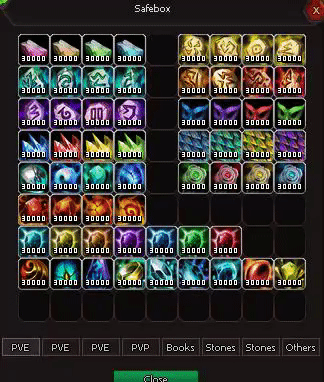 Hunting System
A series of missions (100 for the moment) which will approve you and give you rewards upon completion.
Soon new custom missions for your level. (Easy, Medium, Hard)
Closet System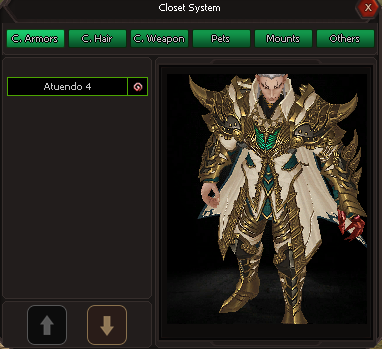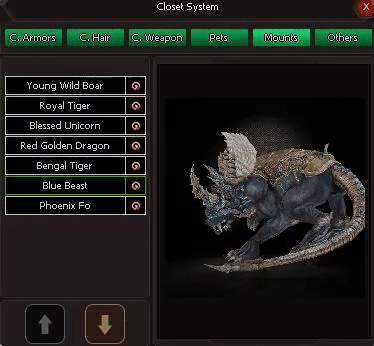 An orderly closet, connecte to the account, with which you can save all costumes, pets, mounts, and other special items.
Domain System
A system where you can obtain special rewards, killing, deliver items, and obtain exotic 'items' to improve your domains.
Wiki System
With this wikipedia you can consult the data of all the objects, search by name and filter by class or category.
You get information about the improvements, drops, and what it can contain.
Events System
A window that lets you know when an event is active, and can teleport to the event.
Additionally it also shows how much time is left for an automatic event.
Keyboard System
A system that allows you to change the original keys of the client for others of your liking.
Switcher System
We have a manual switcher that facilitates the work of change bonus, and soon an automatic as well.
Various System
Afk System
A system that is activated every 30 minutes on PvM maps, to avoid AFK-Leveling
Change Equip
It allows you to save some combinations of equipment, to then be able to change them quickly.
PvP Routes
You will earn points based on what you do in PvP events, and then you can redeem them for rewards.
Menu
A drop-down menu with which you can open the rest of the systems.
Special Shops
Special shops, which you can buy with other items.
Events
A preview of few Events, there are many more.
Budokan (Tournament)
Arena
Hunt
Career
Tanakas
Sleeping Azrael
Youtube & Twich cooperation
Do you like our server? Are you content creator? Do you want to have benefits for playing on our server? Join our Discord server and contact us. Just let us know you are interested and we will discuss details.